Salsa Gossip


HONG KONG SALSA CHAMPIONSHIPS 2013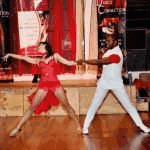 Mitch & Ellicia Bachata World Champions
-
Juan Carlos & Angela McCrista 4th In Salsa Pros VIDEO
-
Andrew Kita & Sidonie Eccles 5th In Salsa Amateur
-
VIDEOS SOON!!


Monday

MAMBO NIGHTS @ Off Broadway Hotel
Salsa at Off Broadway Hotel The very best in SALSA, MAMBO, LATIN JAZZ, CHA CHA, BACHATA ZOUK! Casual Salsa Classes at usual times: 6pm Beginner, 6pm Beginner2, 6pm Intermediate. 7pm Intermediate2. 8pm Intermediate/Advanced. CLUB: 9-1am with resident DJ MAMBO-G.

Monday Salsa night @ Foundry616
6.30 pm Free Salsa L. A Style , Also 8PM Dj Jamie playing with Live Congas . No cover charge, Complete beginner 5.30pm , free street parking from 7pm @ 616 Harris Street Ultimo
LATIN NIGHT MONDAYS! @ The Beach Road hotel
9pm until late Bondi Salsa Presents... BONDI's Latin NIGHT!! Dance the night away inside or outside with fairy lights dining tables and chairs, a unique Bondi experience. Live Latino DJ giving you the best Salsa, Bachata & Merengue music in Sydney. Full bar ready for the latino mood of Mojitos or your favourite drink after dancing with new connections or your other half. $10 Entrance fee

iLatinDance @ Collector Hotel

Dance Social after Rueda Central Classes. With huge dance floors and open bars, this venue is extremely popular with Salsa dancers. $15 Social dancing from 9pm. Collector Hotel. 100 George Street, Parramatta

Buena Vista Social
After classes from 9 pm onwards @ Calabrian Bowling Club

Tuesday

Rumba Motel @ Establishment

28th Live Band - SALSA HALLOWEEN EDITION

Celebrate all things Salsa every Tuesday at Establishment. Join DJ Willie Sabor and friends as they provide the sexiest Latin beats- Salsa, Bachata, Merengue, Samba and Reggaeton with live percussion. Complimentary Salsa lessons at 8pm FREE ENTRY. 252 George St. Sydney CBD.
Street View

Wednesday

WEDNESDAY SALSA THE ARGYLE
29th SALSA HALLOWEEN PARTY
Free Entry !
Dj's: Seba and Miro .
"Where only the Best Salsa will do"!
Resident Salsa DJ Miro, with over 10 year's performance experience, plays a solid set of classic mixed with the very best new Salsa and Bachata tracks. With guest DJ's on rotation and backup support of resident DJ Seba you know you're in for an outstanding dance marathon!
And did I forget to mention - IT'S FREE ENTRY!!!
Come to the amazing Argyle for your next salsa fix.
The Argyle 18 Argyle St, The Rocks

Wed I Love Salsa @ Rock Lily
I ? salsa -summer edition Every Wednesdays @ Rock Lily the Star Casino ? free entry ? free entry ? free entry ? doors open 8 pm. music policy: nothing but the best salsa!!! & a little bit of bachata & merengue;-) Free salsa lessons 8.30 pm-9.30 pm with go-dance ... Live bands from 10 pm djs on rotation dj don bear dj willie sabor dj vicco el sonero Attention all dancers: every wednesday the hottest dancing couple will win a $250 the star gift card!!! At sydney's most exclusive live venue

Thursday

Thursday: LysS TRIO @ The Cuban Place
Live Cuban Music with LysS TRIO, the best Mojitos & great atmosphere every Thursday.. FREE ENTRY from 8pm. The Cuban Place is Australia's own house of live Cuban music, Cuban & Latin American tasty dishes, best authentic Cocktails & Cuban Cigars Address - 125 York St. Sydney.. opposite The Queen Victoria Building
Street View
Latin Thursdays @ Jam Sessions!
Jam Gallery and Latin Junction are so excited to present this brand new live latin style band Thursday night! In the amazing new venue at Bondi Junction - this is the place to experience live music like never before, in beautiful surroundings with class as the name of the game! A food and drinks menu to outdo the finest establishments in Sydney, this venue is the new home for your Thursday night! Line up has been announced! Check out the amazing bands in the cover photo! Free salsa class to start!
Thursday Freaky Sexy Nasty Party @ Bar Cleveland
The night is about variety and fun! The deal is that there will be no more than two tracks of the same style played in a row. We're playing bachata, mambo, cha cha, kizomba, salsa, merengue, zouk and reggaeton. Alex Salsa and Ashley Mannino will run a FREE class from 8:30 to 9PM to get you in the mood for the party which runs from 9 till midnight! Entry for the night is $10. Bar Cleveland has an amazing bistro and selection of drinks to choose from so feel free to come in earlier and have a bite to eat :) Remember to spread the word!! Please note: There will be a break on the 24th of July while Alex and Ashley go overseas and the parties will resume again on the 28th of August.
Salsa @ La Cita
Various Latino DJ's every THURSDAY Playing Reggaeton, Salsa, Bachata, Merengue & Samba. Regular Live Bands, FREE ENTRY. La Cita, King st. Wharf
Street View

Friday

Friday: LORENZO y su SWING @ The Cuban Place

LORENZO y su SWING & Guests @ The Cuban Place... enjoy a night at Australia's own house of live Cuban music, best authentic Cocktails, Cuban & Latin American tasty dishes & Cuban Cigars. *** FREE ENTRY ALL NIGHT *** Address - 125 York St. Sydney.. opposite The Queen Victoria Building. 8pm till late.
Street View
FRIDAY She Loves Kizomba @ Eleven Nightclub
Bailar Kizomba has their GRAND OPENING this FRIDAY! Then followed by every week at Eleven Nightclub (11a Oxford Street, Paddington). Only $10 entry! There will be Kizomba and Semba classes on the night aling crazy drink specials. Please see link for more info. Share this to all your friends!
Friday Lunchtime Social Salsa Dance at Hyde Park, City
!!!FREE EVENT!!! 12:30 PM-1:30 PM on Every Friday except wet weather. Let's have dances (80-90% of Salsa for LA, New York, Cuban style or Rueda dancers and 10-20% of Bachata). At the paved area of Hyde Park, off Park st. where the fig-tree lined avenue starts. If you come along Park St. from Town Hall, pass the intersection with Elizabeth St., and keep walking till you see the stairs on your left and the pedestrian crossing on your right, and walk up the steps on the left side. Please contact Dae Oh for more info: 0415 065 539 oh2967@gmail.com
FRIDAY 24 October SALSA & BACHATA NIGHT @ FRIDAY 26 SEPTEMBER
The longest running studio party! Come to the famous SALSA & BACHATA Nights at Tropical Soul Dance Studio! As usual it will be a full house!! The format is simple, 2 Salsa and 2 Bachatas (plus the occasional Cha Cha). Plenty of dancing for everybody, and lots of nice people attending on the night :) 8:30pm - Salsa Workshop with Hanson Ooi and Josie Coté 9:30pm - Dancing till late with DJs Super Juan, JC Bachata and Luis J Belleza $10 entry - BYO TS Members pay only $5 See you guys then!
Friday TuCandela @ Wenty Leagues

SYDNEY LATINO ENTERTAINMENT @ IT"S BEST # LATIN DJs -RESIDENT VIDEO DJ "AZUQUITA" Mixing all your Latin Video Hits on 3 Large Video Screens!!! 100% Video Music!!!! with bands FREE ENTRY EVERY FRIDAY!!!! 50 Smith Street Wentworthville,

Saturday

25th MAMBO-G's SATURDAY MONTHLY @ OFF BROADWAY HOTEL!
MAMBO-G's SATURDAY MONTHLY @ OFF BROADWAY HOTEL! RETURNS, after a CRAZY SALSA PALLADIUM MONTH! Come for a great night of dancing! - HUGE venue - TWO large dance areas. - FOUR LARGE fans. - PLENTY of seating - GREAT Bistro. - FREE street parking after 6pm - CHAMPAGNE draw CLASSES: - 3 levels of classes at 8.30-9.30pm (Beginner, Intermediate, Advanced). CLUB: - 9.30pm-1.30am DJ's MAMBO-G, CHRIS, & GAV, bringing their flavours of SALSA, MAMBO, LATIN JAZZ, BACHATA, & CHA CHA! Let your DANCE friends know.. lets keep dancing social..:) See you there, G
Street View
Satday: LORENZO y su SWING @ The Cuban Place

LORENZO y su SWING & Guests @ The Cuban Place... enjoy a night at Australia's own house of live Cuban music, best authentic Cocktails, Cuban & Latin American tasty dishes & Cuban Cigars. *** FREE ENTRY ALL NIGHT *** Address - 125 York St. Sydney.. opposite The Queen Victoria Building. 8pm till late.
Street View
SAT Various Bands @ Club Marconi

Saturday Night Live in Main Lounge Come and enjoy Latin live bands every Saturday night at the downstairs stage of Marconi Club. Marconi Plaza (off Prairievale Rd) BOSSLEY PARK 2176 Ph: 9822 3333 9pm - 2am No cover charge.
StreetView

Sunday

Sunday Social Rueda @ MCA gallery
Social Rueda Sydney group meets on Sunday afternoons for free Rueda dancing Sunday afternoon (please check our Facebook page for exact times, as they change with the seasons and for daylight savings) on the promenade in between the overseas terminal and MCA gallery in Circular Quay - unless it looks like rain, then it will be cancelled, or if there is an big event on at The Rocks, it might be moved to Hyde Park at the top of the stairs up from Park Street - please check our Facebook page for more current info... Everyone is welcome!!! Circular Quay, Sydney
La Fiesta Sundays @ Establishment
Every Sunday come and enjoy the beautifiul and sexy dances of SALSA SENSUAL * BACHATA * KIZOMBA * ZOUK LOVE Kizomba, Bachata, Zouk & Salsa. From 8pm-late. Free Entry. Enjoy a Romantic & Sexy night of dancing every Sunday @ Establishment. 8pm-late. Free Entry.
Highlighting What's On in the weeks to come here or
click for National Calendar

Sat 1st November SALSA CAFE @ St Joseph Church Newtown
THE LATIN AMERICAN DANCE ACADEMY INC AT GLEBE LADA is a not-for-profit organisation sponsoring children from Latin America since 1996 LADA's please to announce the next SALSA CAFE will be on the 1st November 2014,with Wonderful D.J.Jamie in the Old World Charming Sandstone Hall of St Joseph Church...Newtown On Saturday 1st November 2014 Entry: $15 includes refreshments (bring a plate to share if you wish).Invite all your friends, even the ones who have never Danced before, as there will be a Free Salsa Lesson at 7.30pm, It will be a great night,full of fun and giggles Time 8pm-12mn When: Saturday 1st November 2014 Where: on the corner of Station street and Bedford street , near Lennox street, Newtown Gen: 0438214212, Laurie:0407 668 901
31st Oct - 2nd Nov With a reputation of being one of the best Latin dance events in Australia, this festival attracts people from all over Australia to the North Coast of NSW to enjoy the unique attributes of Byron Bay with a generous serve of spicy Latin flavour! 9th Annual Byron Latin Fiesta, 31st Oct - 2nd Nov, 2014, Byron Bay, NSW. Enjoy 4 nights & 2 days of all things Latin! International, National & Local teachers & performers. 30+ Dance Workshops, Master Workshops, Performances, Live bands & more



8th Nov SALSA PALLADIUM INTERSTATE SPECTACULAR!

Salsa Palladium is Australia's biggest bi-annual Salsa Event, bringing live Salsa bands, the best DJ's & Performances from all corners of Australia & the world! Held in the prestigious Factory Theatre, with 7 metre ceilings & three large dance floors With a focus on social dancing there are SIX hours to dance, on three huge dance floors in an amazing Theatre environment. Ticket pricing includes a 'free' Salsa class for patrons at 7.30 getting everyone into the spirit of the event! Pick your level of class from beginner, intermediate and advanced, all at 7.30pm There are two sets of amazing performance sets (2 x 30 min) to entertain and woo patrons and dancers. Live Salsa music is one of the key elements of Salsa Palladium, keeping the event in line with the tradition of live music at the New York Palladium. There's nothing better than listening to, watching, & dancing to a great live band!
Prepaid tickets online: $35 Or at the door: $45



Help WSPA end the cruelty of Bear Baiting

WSPA exists for one simple reason - animals around the world desperately need our help. Projects are diverse and range from exposing animal abuse and enforce stronger laws, providing education programmes to break the cycle of cruelty and ensuring a quick response to natural and man-made disasters. WSPA works in co-operation with hundreds of member organisations in over 150 countries to promote animal welfare.


BRICKS FOR BEARS
Sydney Salsa Scene. Where to dance Latino in Sydney, Australia, Australian Salsa Classic, LDA ball, Modus Vivendi, Sydney, Australia Bachata Festival, what's on, Sydney Salsa Congress, Spanish Harlem Orchestra, Latin / Party, Latin festival Sydney, Australia, Latin fiesta Sydney, Australia, Sunday Salsa, Sydney salsa events, Latin dance sunday, party city, Latin scene, clubs and nightlife, salsa party city, salsa dance step class, Darling Harbour fiesta Sydney, Australia, Salsa Sunday, how to salsa dance, salsa dancing lessons, music, sydney festival, festival of Sydney, Australia, single in Sydney, salsa classes sunday, sunday Latin dance classes Oliver and Luda, World Champions, Salsa Scene in Sydney, Australia, Australia is huge! Before you decide : Where to go and What to do, You need to check our site for the latest updates: Sydney Salsa Scene will keep you up to-date with current events in our party city. Join our 'mail out' and get the weekly schedule of Latin events sent to you. Clubs and nightlife, Latin music, learn how to salsa dance, parties, Latin dance instruction video - it's all found on our Australian site. To learn salsa, BACHATA, Merengue, Rueda dance steps go to our Latin dancing lessons and classes page. No need for a partner - most classes prefer singles who rotate dancing partners and join in the fun. Single women, as dance partners, are always in demand in intermediate and advance dance classes. Learn Latin dance steps from over fifty different salsa dancing classes each week in Sydney, Australia. Club Salsa, Club Havana, Salsa Republic, Latin Motion, Latin Dance Australia LDA, Ruedisima, Strictly Salsa, Picante Latin Dance, Latin Fusion, Latin Explosion Dance, Dancewell, Dance Latino run weekly classes. Many schools also teach merengue and bachata. Learn at home with Salsa dance videos on Latin music and dance videos on Salsa web page. Single, progressing to partner dancing covered. Sydney's salsa dancing nightclubs play real Latin and salsa music. Over twenty events are listed weekly at our Salsa Sydney clubs and nightlife web page. With beautiful venues like La Cita King Street Warf and Port Orient Darling Harbour. , salsa parties are the best entertainment in Sydney, Australia. Regular club events at the Establishement George St, Ivory Lounge , Vivaz nightclub and Martini Bar keep the salsa beat pumping in Sydney, Australia Special events like Annual Darling Harbour Fiesta and the Spanish Latin Quarter @ Liverpool St. Sydney parties and the festival of Sydney, Australia show off Latin american dance and cuban salsa dancing. Our listings attract overseas vistors especially from USA and Califonia state who share our passion for great salsa music and dance. See our Sydney current events for details. Latin bands, including Club Havana Band, Mi Tierra, Sonando, Mucho Mambo, Latin Kings, Bandolero, Mambo Asi, Son Veneno and Armandito Y Su Mecanica are listed at Latin music and dance videos on Salsa web page. Salsa dancing is sweeping the world. Sydney, Australia festivals, nightclubs and dance classes are some of the best Latin dance events in the world. Sydney, Australia boasts Australia's only 5 x's World Salsa Champions Oliver Pineda & Luda Kroitor from Latin Motion 2005, 2006, 2007, 2008. Jaime Jesus & Little Liz -Australian Champions in 2005 - from Latin Dance Australia are well regarded as one of the best salsa dance teachers in the world today. You can always see Oliver and Luda, Jaime and Little Liz teach dance at one of the many fine Salsa clubs around town. Salsa dancers are some of the friendliest people in town. So if your single - don't be shy - pick a club or lesson - and join in the fun.
Home • Clubs/Nightlife • Dance Classes • Bands/Radio/Videos • Contact us • Alexa Rankings



Copyright 2009 site by NRU Pty Ltd - All rights reserved