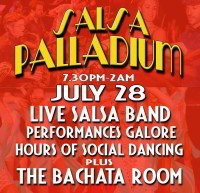 JULY 28th SALSA Palladium + Bachata Room @ Factory Theatre

The BIGGEST BI ANNUAL SALSA EVENT in AUSTRALIA brought to you by House of Mambo. Salsa Palladium: A full night of entertainment with a Salsa Band, Performances galore, plus hours of social dancing to Australias top Salsa DJ's playing the very best in Salsa, Mambo, & Cha Cha! Salsa Palladium brings a bonus second room, 'The Bachata Room', for all of the Bachata dancers too! EVERYONE welcome if you're a non-dancer try the free Salsa & Bachata classes at 7.30pm to be ready for freestyle dancing, quality shows, & live music. Be a part of Australia's biggest biannual Salsa Event! Main Room (Salsa Room) – 7:30pm free class, 8pm party Fuse Box (Bachata Room) – 7:30pm free class, 8pm party
SALSA PALLADIUM 'Reinventing the days of the BIG dance halls', when the LADIES got their BEST DANCE DRESSES on.. GENTS were always looking 'SHARP"! BE THERE for another LEGENDARY NIGHT of MUSIC & DANCE! PLENTY of local on street parking.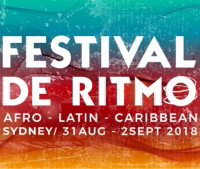 FESTIVAL DE RITMO 31 AUG - 2 SEPT @ Roundhouse UNSW. Discover the essence of the Afro, Latin & Caribbean rhythms that we so love to dance to! 3 Nights | 2 Days | Dance Workshops | Parties | Live Bands | DJs | International Artists | National Artists. Join our International Bachata stars, Junior and Carolina, Edwin M Ferreras plus Dakota Romero, Cuban International Osmani Segura and Kizomba Internationals to be announced soon! 2nd Early Bird Full event passes on sale now until 30 June. Roundhouse, UNSW Sydney.


September/October
2018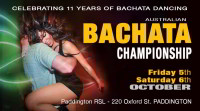 OCT 5 Australian Bachata Championship 2018 @ Paddo RSL Two incredible nights with the best Bachata, Salsa and Kizomba by the hottest Latin DJs ? Exciting competition by the best Bachata dancers in the country competing for the titles of "Australian Bachata Champions" and the "Australian Best Bachata Choreography" ? Enjoy the excitement & friendly touch of the Jack & Jill factor Tickets · $25-$30 220-232 Oxford Street, Paddington
Street

View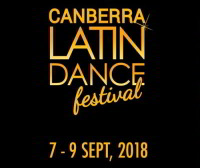 Canberra Latin Dance Festival
The dates for the 2018 event will be from the 7 to 9 of September, just when we are entering the spring season! The CANBERRA LATIN DANCE FESTIVAL is coming back in 2018 with new format and new ideas for its 6th edition of this annual event! We are aiming to bring the best of the best at the nation's capital! The directors are doing a lot of work behind the scenes at the moment. So stay tuned for lots of updates and for a brand new CLDF!
November/December 2017

13th Annual Byron Latin Fiesta 1st - 4th November 2018, Byron Bay NSW. The festival comprises 4 nights of parties & 2 days of dance workshops plus pre-parties & after parties. International, National & Local teachers & performers. 40+ Dance Workshops, Master Classes, Seminars, Performances, Live bands & more!!! This is one of Australia's longest running and most popular Latin dance events. Join us in beautiful Byron Bay. Venue: Byron Theatre in the heart of town plus feeder venues. 2nd Early Birds on sale now until 31 July.